TBSO Tour West: A Return to Live Music
After 2.5 years away, the TBSO was finally able to perform LIVE for our Northwestern Ontario audiences, performing concerts in Dryden and Kenora from Oct 4th-6th. With a combination of community and education concerts, we reached over 1300 people, performing at the Dryden Regional Training and Cultural Centre, Dryden High School Knox United Church, and St. Thomas Aquinas High School. Jeff Christmas made his debut as the TBSO's RBC Principal Pops Conductor, hosting pre-concert talks, and we welcomed soprano Erika Rasmussen as soloist for our Kenora Community Program.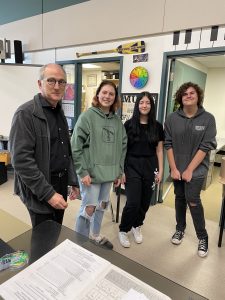 . 
Students were able to join us for our education concerts from multiple schools. In Dryden we welcomed about 500 students from Open Roads, St. Joseph's, New Prospect, and Dryden High Schools, while In Kenora we performed for another 400 students from St. Thomas Aquinas and Beaver Brae schools. Prior to our Education Concerts, TBSO musicians taught workshops and masterclasses to music students. Our musicians remarked on the eagerness and excitement of the young people they met. We are honoured to return to these communities, sharing music and knowledge with our beloved audiences.
A big thank you to TBayTel as our Tour Sponsor, who made our concerts possible!